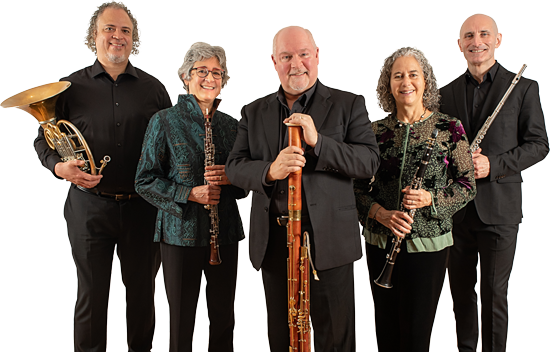 BWQ EMERGES
The Borealis Wind Quintet bids a poignant farewell to Dan Culpepper, and an enthusiastic welcome to our new horn player, Dr. Eric Davis.
Dan was the BWQ french horn player from 1991-2021. Through countless rehearsals, tours, recordings and daily text threads, we have long been captivated by (and captive to!) Dan's colorful stories and mischievous antics. It is with deep gratitude that we wish him well on his adventures near and far, on land and by sea.
Our new hornist Eric Davis is a unique talent with a special passion for collaboration. From orchestral playing to night clubs, television appearances and Broadway, Eric brings unbridled enthusiasm for music-making and for cultivating meaningful human connections.
We look forward to seeing you at a concert soon!
The Borealis Wind Quintet, like the spectacular Aurora Borealis, captivates audiences of all ages with dazzling, inspiring and transformative performances. Nominated for a Grammy in 2006, they are without question a major wind quintet of our time.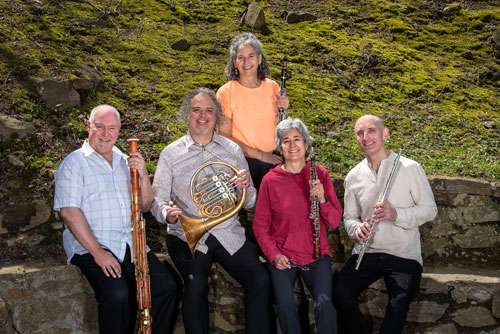 "A polished, elegantly turned performance... lively, communicative readings... the performance was a scintillating one"
" The Borealis Wind Quintet is a superb ensemble. Their playing is precise without ever being merely pedantic; their control of dynamics is masterly and their internal balance is faultless."
Glyn Pursglove, Musicweb- International
"The season began with a cheery concert by the Borealis Wind Quintet...the performance was fabulous."
"The Borealis Quintet is first rate; the players not only know how to play their instruments, they know how to get music out of them...The whole recording is the stuff dreams are made of."
"For maximum color and variety, the wind section is where it's at, and the Borealis Wind Quintet provided it in abundance... These five very talented people presented their program with a great deal of humor and verve."
© THE BOREALIS WIND QUINTET
Web Design by Floyd Dog