BOREALIS recorded Bob Wagner's arrangement of Jay Ungar's 'Ashokan Farewell' in September, 2020 at New England Music Camp (aka Snow Pond Center for the Arts). We convened in Maine for a Covid-retreat just after Labor Day. We cooked, rehearsed, kayaked, spent time on and in the lake…
It was an amazing moment in time. Truly miraculous that we pulled this off amidst the grips of the pandemic…
How fortunate:
For the group to play and hang together after many months of not meeting…
That the weather was just starting to reveal hints of the crisp Autumn days ahead…
That we enjoyed the run of Snow Pond (thanks to our gracious hosts)– rehearsing in Burns Cabin and on the porch of the Boys Dorm; daily staking out good locations for outside playing shots…
Everything aligned to allow for a remarkable moment of beauty and collaboration.
Maria from West Side Story
Suite by Gunther Schuller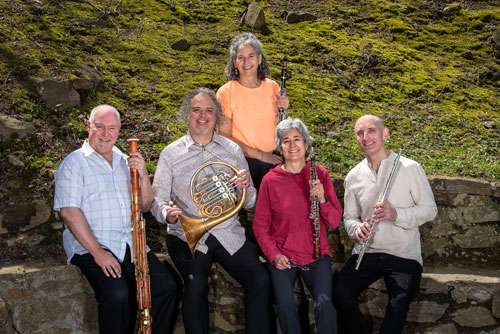 "A polished, elegantly turned performance... lively, communicative readings... the performance was a scintillating one"
" The Borealis Wind Quintet is a superb ensemble. Their playing is precise without ever being merely pedantic; their control of dynamics is masterly and their internal balance is faultless."
Glyn Pursglove, Musicweb- International
"The season began with a cheery concert by the Borealis Wind Quintet...the performance was fabulous."
"The Borealis Quintet is first rate; the players not only know how to play their instruments, they know how to get music out of them...The whole recording is the stuff dreams are made of."
"For maximum color and variety, the wind section is where it's at, and the Borealis Wind Quintet provided it in abundance... These five very talented people presented their program with a great deal of humor and verve."
© THE BOREALIS WIND QUINTET
Web Design by Floyd Dog