The Borealis Wind Quintet has been performing for a wide range of audiences for over 40 years, drawing from a music library of hundreds of pieces. Throughout our history we have taken great pride in curating relevant and varied programming.
This year, in addition to our popular eclectic programs, we're celebrating our country's rich musical heritage with engaging programs bearing witness to the diversity of our American musical culture. These Americana selections offer the perfect opportunity for us to take our audience on a joyful and spirited journey.
Below are samples of this season's special, new offerings.

The Borealis Wind Quintet presents "An American Soundscape". A tribute to the diversity of the American experience. Through music, we explore the classical roots of American heritage and trace the ever-evolving creative process. From the visceral world of spirituals, hymns and traditional tunes to the eclectic sounds of Samuel Barber and George Gershwin, this program offers a vivid representation of diverse voices coming together as one. Borealis celebrates America at its most vibrant.
VIEW SAMPLE PROGRAM
Borealis American Soundscape
Summer Music | Samuel Barber
A timeless piece from the iconic master
Pastorale | Mrs. H.H.A. Beach (1867-1944)
Amy Marcy Cheney was the first critically acclaimed woman composer in America
Hymns from the Braintree Quintet | Gwyneth Walker
Spirituals Valerie Coleman
Novel approaches to traditional sacred music
La Nouvelle Orleans | Lalo Schifrin (b 1932)
Argentine/American Oscar winner known for film and TV scores, including "Mission Impossible"
Ashokan Farewell | Jay Ungar/arr. Bob Wagner
From Ken Burns' "Civil War"
Porgy and Bess | George Gershwin/arr. A Anastasov
Borealis Sonic Pops Americana
Throughout Borealis' history we have taken great pride in the variety of characters we portray in our programs. Often the most enjoyable parts of a concert are the more spirited works of our repertoire. This is where we really have fun!
In celebration of our country's strong musical heritage, we've compiled a sample list of repertoire that celebrates America's long tradition of diversity through more jovial works. Our final program will incorporate a customized assortment from this list.
VIEW PROGRAM
Borealis Pops Americana
West Side Story
Porgy
Barrows March
The Pearl | Jellyroll Morton
Rags | Joplin
Night and Day | arr R Price
You're the Top | arr R Price
Heart Belongs to Daddy | arr R Price
Quadrille from Can Can | Cole Porter
Pastorale | Persichetti
Chorinho | Gary Schocker
Braintree | Gwyneth Walker
Spirituals | Valerie Coleman
Beer Music | Brian duFord
Mississippi 5 | Parker
Hush a Bye (d'amore solo) | arr R Price
Ashokan Farewell
The Grammy-Nominated Borealis Wind Quintet offers a flexible program in collaboration with a local community or university pianist. The Borealis will discuss program options with the local artist to find a rewarding and challenging program guaranteed to thrill the audience.
VIEW SAMPLE PROGRAM
Borealis Plus One
Pick one from column A, one from column B plus a solo piano piece, and we will fill out with complementary pieces.
COLUMN A:
Beethoven: Quintet for Piano and Winds, Op.16
D'Indy: Sarabande and Menuet, Op.72
Louise Farrenc: Sextet for Piano and Winds in C, Op.40
Francaix: L'Heure du Berger
Mozart: Quintet for Piano and Winds in Eb, K.452
Roussel Divertissement, Op.6
COLUMN B:
Gershwin: American in Paris (arr.)
Lowell Liebermann: Fantasy on a Fugue of JS Bach
Poulenc: Sextour
Rheinberger: Sextet
Leo Smit: Sextet for Piano and Winds
Strauss: Til Eulenspeigel (arr.)
Thuille: Sextet for Piano and Wind Quintet, Op.6
VIEW SAMPLE PROGRAM
From Bach to Bernstein
Concerto after Vivaldi S.593 | J.S. Bach, arr. M. Rechtman
Petite Offrande Musicale | Nino Rota
Potpourri Fantastico sul Barbeire del Rossini | Giulio Briccialdi
Pastorale | Mrs. H.H.A. Beach
Suite from West Side Story | Leonard Bernstein, arr. R. Price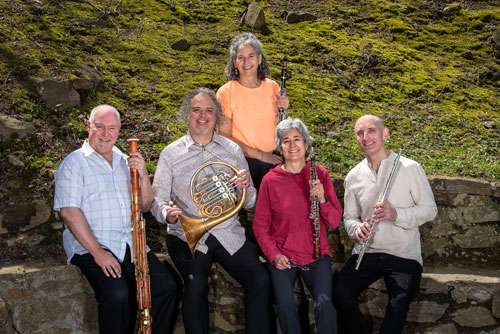 "A polished, elegantly turned performance... lively, communicative readings... the performance was a scintillating one"
" The Borealis Wind Quintet is a superb ensemble. Their playing is precise without ever being merely pedantic; their control of dynamics is masterly and their internal balance is faultless."
Glyn Pursglove, Musicweb- International
"The season began with a cheery concert by the Borealis Wind Quintet...the performance was fabulous."
"The Borealis Quintet is first rate; the players not only know how to play their instruments, they know how to get music out of them...The whole recording is the stuff dreams are made of."
"For maximum color and variety, the wind section is where it's at, and the Borealis Wind Quintet provided it in abundance... These five very talented people presented their program with a great deal of humor and verve."
© THE BOREALIS WIND QUINTET
Web Design by Floyd Dog