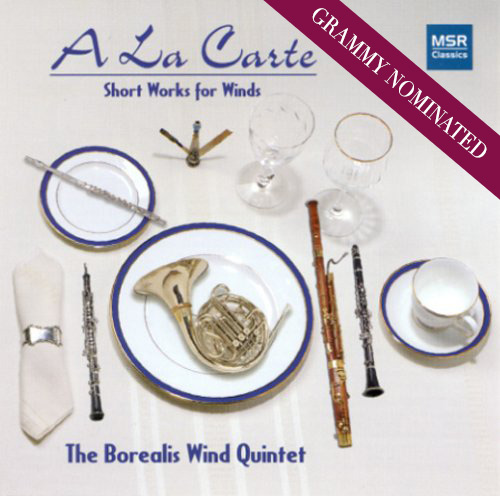 A LA CARTE
SHORT WORKS FOR WINDS
The 2006 Grammy Nominee for Best Classical Chamber Music includes favorite repertoire gems by Darius Milhaud, Percy Grainger, Amy Beach and others.

THE AUDIOPHILE AUDITION
"The virtuosic performances are uniformly sweet and captivating. The repertoire ranges freely from a light-hearted trifle by Nino Rota, a reverie by Amy Beach and a neoclassic showpiece by Ferenc Farkas to more substantial sets by Darius Milhaud and Gunther Schuller. There is also a lovely discovery by the contemporary composer Joseph Turrin and a potpourri on Rossini's Barber of Seville by Giulio Briccialdi (1818-1881).
Recorded at the Purchase(New York) College Conservatory of Music, the sound has wonderful warm bloom without an exceptional sense of space that repays higher volumes, making for a good light workout that will test the timbral accuracy of any music system. The affectionate, authoritative notes by the Quintet add greatly to the listening pleasure."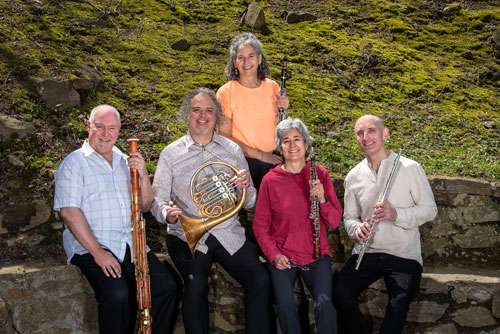 "A polished, elegantly turned performance... lively, communicative readings... the performance was a scintillating one"
" The Borealis Wind Quintet is a superb ensemble. Their playing is precise without ever being merely pedantic; their control of dynamics is masterly and their internal balance is faultless."
Glyn Pursglove, Musicweb- International
"The season began with a cheery concert by the Borealis Wind Quintet...the performance was fabulous."
"The Borealis Quintet is first rate; the players not only know how to play their instruments, they know how to get music out of them...The whole recording is the stuff dreams are made of."
"For maximum color and variety, the wind section is where it's at, and the Borealis Wind Quintet provided it in abundance... These five very talented people presented their program with a great deal of humor and verve."
© THE BOREALIS WIND QUINTET
Web Design by Floyd Dog