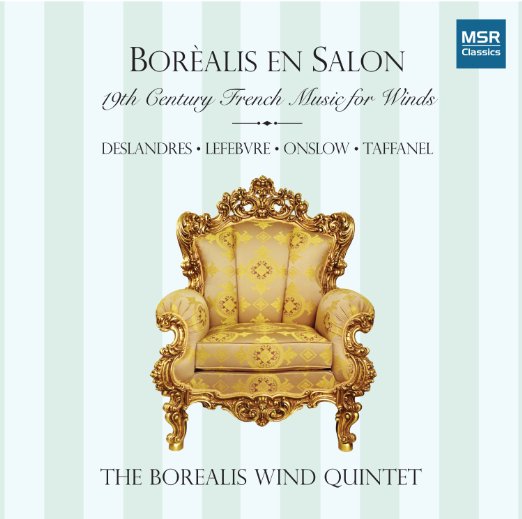 BOREALIS EN SALON
19TH CENTURY FRENCH MUSIC FOR WINDS
The newest release features the cornerstone French repertoire for the woodwind quintet. It includes the charming lighter works of Adolphe Deslandres and Charles Lefebvre, as well as the substantial and well known offerings of Paul Taffanel and Georges Onslow.

BY STEPHEN EDDINS, ALLMUSIC.COM
By the mid-nineteenth century, wind instruments had developed technically to the point that they had the versatility and reliability to attract renewed attention from composers of chamber music. The Romantic era saw the standardization of the wind quintet as an ensemble, and the combination of flute, oboe, clarinet, bassoon, and horn began to accrue a repertoire that has continued to attract composers from Hindemith to Barber to Ligeti. In this recital, the Borealis Quintet has assembled an assortment of nineteenth century French pieces by composers who are mostly obscure to modern audiences, but whose works are charming and elegant. Paul Taffanel's Quintet is a standard of the repertoire for the ensemble, but the remaining works by Adolphe DesLandres, George Onslow, and Charles Édouard Lefebvre are relative rarities. While these works may not offer much in the way of musical profundity, they are substantial, witty, and gracefully crafted light works that should delight fans of wind music, and of conservative Romantic chamber music. The Borealis Wind Quintet plays them with the requisite flair and panache and with lovely, clear tone and an unusually beautiful blend, something that is not always easy to achieve with this combination of instruments. MSR's sound is clean and warmly immediate.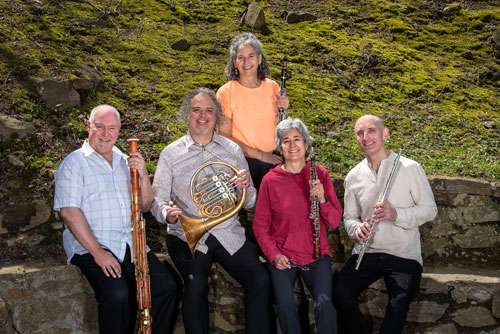 "A polished, elegantly turned performance... lively, communicative readings... the performance was a scintillating one"
" The Borealis Wind Quintet is a superb ensemble. Their playing is precise without ever being merely pedantic; their control of dynamics is masterly and their internal balance is faultless."
Glyn Pursglove, Musicweb- International
"The season began with a cheery concert by the Borealis Wind Quintet...the performance was fabulous."
"The Borealis Quintet is first rate; the players not only know how to play their instruments, they know how to get music out of them...The whole recording is the stuff dreams are made of."
"For maximum color and variety, the wind section is where it's at, and the Borealis Wind Quintet provided it in abundance... These five very talented people presented their program with a great deal of humor and verve."
© THE BOREALIS WIND QUINTET
Web Design by Floyd Dog