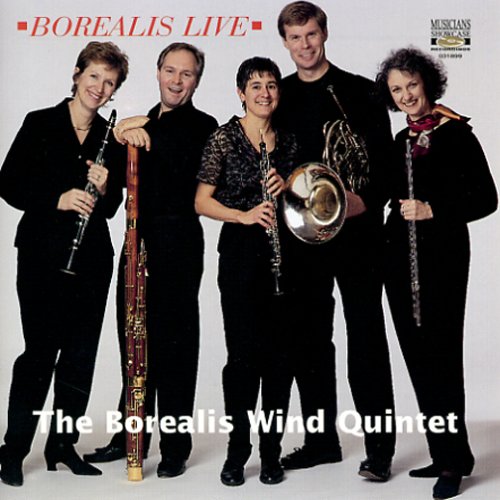 This CD is exactly what the title describes: one concert, one night, uncut and unedited! Experience the excitement of a real performance of the Borealis Wind Quintet and enjoy the richness of their balanced programming, including works of Ewazen, Ligeti, Reicha, Verdi and Strauss.

AMERICAN RECORD GUIDE
"This is a concert recording from the White Recital Hall of the University of Missouri campus in Kansas City. The ambience is stunning for such a venue-clean, warm, vibrant and remarkably quiet. The Borealis Wind Quintet has been on the scene for quite a while, and their playing is stellar, warm, vivacious and richly vibrant"
FANFARE MAGAZINE
"To bring largely unexplored repertoire to the public, especially repertoire as wondrous as these examples, is not merely a noble endeavor, but an essential one. Here they receive performances that are noteworthy for their subtlety, verve, impeccable intonation, ensemble transparency and unanimity, and sheer dedication. The sound is excellent, despite the fact that this recording documents a live concert performance, which serves to add both to its charm and immediacy.
The repertoire is eclectic and the Borealis' large stylistic compass effectively realizes the French nuances of Lefebvre's all-too-short "Suite", the Hungarianism of Ligeti's aphoristic and pungently colored "Bagatelles", and the disarming Americanism of Eric Ewazen's "Roaring Fork Quintet". The music is at once evanescent and grand.
The Borealis' apt interweaving of the stylistically novel with the familiar shows that they are playing not only with the notes before them, but with the audience as well. The ensemble's slight holding back on the last note of the first Ligeti bagatelle clearly shows that Ligeti intended a Haydenesque joke. That the audience chuckles is truly gratifying."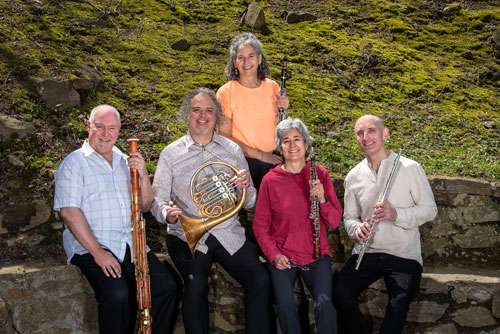 "A polished, elegantly turned performance... lively, communicative readings... the performance was a scintillating one"
" The Borealis Wind Quintet is a superb ensemble. Their playing is precise without ever being merely pedantic; their control of dynamics is masterly and their internal balance is faultless."
Glyn Pursglove, Musicweb- International
"The season began with a cheery concert by the Borealis Wind Quintet...the performance was fabulous."
"The Borealis Quintet is first rate; the players not only know how to play their instruments, they know how to get music out of them...The whole recording is the stuff dreams are made of."
"For maximum color and variety, the wind section is where it's at, and the Borealis Wind Quintet provided it in abundance... These five very talented people presented their program with a great deal of humor and verve."
© THE BOREALIS WIND QUINTET
Web Design by Floyd Dog