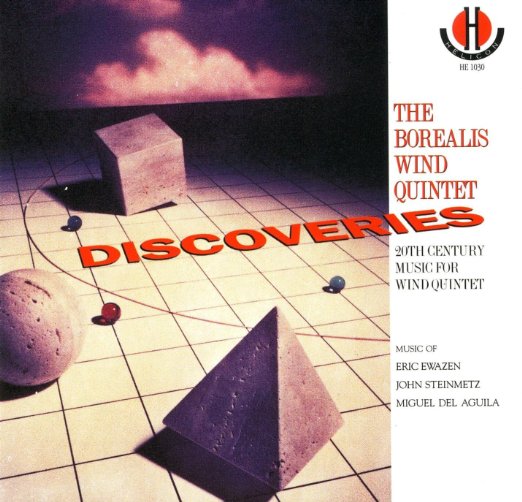 This brilliant collection of new classics for wind quintet by American composers Eric Ewazen, John Steinmetz and Miguel del Agulia.

THE AMERICAN RECORD GUIDE
"The Borealis Wind Quintet has a sound that is extraordinarily well blended. The compositions on the disc are all congenial and easy to listen to. Eric Ewazen's "Roaring Fork Quintet" is an example of lively neo-classicism, well written for the instruments, while John Steinmetz's "Quintet" is darker, with a wider range of color and harmony than the Ewazen. Finally, Miguel del Aguila's "Second Quintet" is a sometimes laconic, always listenable piece, with a lively Caribbean dance-influenced second movement and a dark, brooding third movement. Fans of the woodwind quintet will want to hear this disc."
FANFARE MAGAZINE
"Entitled "Discoveries", this is an enticing collection of new music for wind quintet, beautifully played by this American ensemble founded in 1976. All three pieces are written in a straight-ahead tonality that should appeal to the most conservative of listeners, and yet there is an elegance and thoughtfulness in all three works that should not offend more adventuresome ears."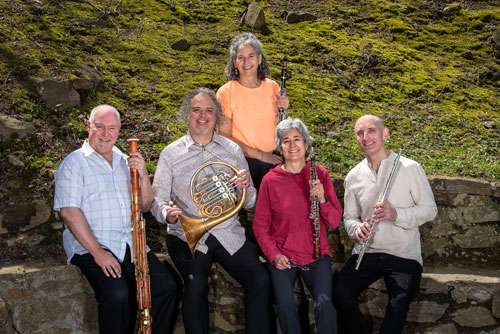 "A polished, elegantly turned performance... lively, communicative readings... the performance was a scintillating one"
" The Borealis Wind Quintet is a superb ensemble. Their playing is precise without ever being merely pedantic; their control of dynamics is masterly and their internal balance is faultless."
Glyn Pursglove, Musicweb- International
"The season began with a cheery concert by the Borealis Wind Quintet...the performance was fabulous."
"The Borealis Quintet is first rate; the players not only know how to play their instruments, they know how to get music out of them...The whole recording is the stuff dreams are made of."
"For maximum color and variety, the wind section is where it's at, and the Borealis Wind Quintet provided it in abundance... These five very talented people presented their program with a great deal of humor and verve."
© THE BOREALIS WIND QUINTET
Web Design by Floyd Dog